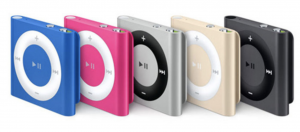 Do you have an MP3 player, especially an iPod somewhere that you are not using. Maybe in a drawer or sitting on a shelf? We accept all Apple music players in working condition. Chargers are also appreciated. If you would like confirmation we have received your device, please add your email address.
To donate your iPod please follow the instructions below
Shipping Instructions:
1. Deactivate iPod(s) and turn off power.
2. Place iPod and charger cord in the smallest envelope or box possible with adequate padding. Keep the earbuds. We supply residents with headphones.
3. Seal the package, affix the mailing label and drop in the mail.
Our mailing address:
Music & Memory
PO Box 205
Vermont, Victoria 3133
We'll wipe clean your iPod and restore it to factory settings. We will then donate it to someone at one of our Music & Memory care homes. Thank you.
Make a Donation
Your gift to MUSIC & MEMORY® will help us to expand our proven program of personalised music to reach more individuals struggling with dementia and other forms of cognitive and physical impairment. Thank you for your support!
We are just setting up our donation pages. In the meantime please contact us if you would like to make a donation and we will contact you within 24 hours.
Understandably, most things here are done to us or for us, attending to our security and our health. But the iPod program is done with us, and that makes all the difference.
— Howard, Care Home Resident